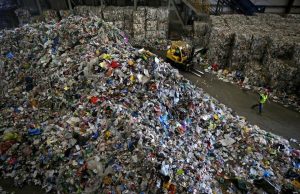 July 2018
Toronto's one-bin-for-all-recyclables approach to recycling is simple to understand and implement.  It is also proving unsustainable.
That wish-recycling program managed by your condo building may soon have to change.  Having everything that looks like it should be recycled going into one container is not working.  Contamination rates for recycled materials are so high they become useable.
Recycling rules can be confusing and hard to follow:
Plastics can be recycled. Exceptions include bubble wrap, coffee pods, black take-out containers, plastic pre-packaging for meat and cheese, and cling wrap.
Food containers, plastic and glass, are only acceptable if rinsed.
Paper is accepted. Exceptions include wallpaper, cereal liners, candy bar wrappers, waxed cardboard (often used with frozen food), and anything with food on it.
China, the buyer for about two-thirds of North America's recycled materials, has tired of accepting tainted recycling material. They now require a contamination rate no higher than 0.5 per cent. Contamination occurs when something as basic as ketchup or mustard is smeared on paper. Regional recyclers pay additional fees and risk losing substantial revenue when contamination rates are too high. In May 2018 more than 13,000 tons of unsaleable recycled material from Peel was sitting in a warehouse that was expected to sell for $1.7 million. Similar situations exist for cities throughout Canada. Some have started shipping recycled material to landfills.
Cities and towns that used to earn money from recycled material are now paying as much as $100 a ton to have it hauled to landfills or incinerators. Expectations are that disposal costs may exceed $250 a ton.
Toronto's one-bin-for-all-recyclables has a contamination rate that can reach 25 per cent. From this the city collects more than $20 million a year from selling recycled materials. The amount is expected to decrease because of an oversupply of recycled materials and declining selling prices. Producing cleaner recycled materials may be the only solution to finding buyers.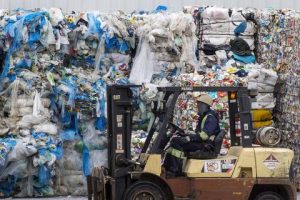 Over half of all Toronto residents live in condo buildings. On average, these buildings recycle 28 per cent of their waste compared to 65 per cent of waste in single-family homes. About 65 per cent of multi-residential buildings are part of the City of Toronto's waste collection network for which recycling and organics collection is mandatory. The remainder use private waste collection with no recycling requirements. Condo buildings have a higher contamination rate than single-family homes.
Toronto's condo community can and should do a better job at diverting waste to recycling and organics, and reducing contamination rates. Fees that condo corporations pay to have trash collected have thus far not provided a sufficient incentive for increasing waste diversion and reducing contamination rates. Higher collection fees may soon be necessary.
British Columbia's contamination rate, at 6.5 per cent, is one of the lowest in North America. Residents do a better job at providing recycled materials that are uncontaminated.
Condo Archives articles on waste management
All Condo Archives articles on waste management can be found under Condo Building Management/Waste Management.
Find Vendors in these Related Categories