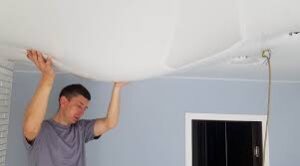 January 2023
You purchase a clothes washer or dishwasher that gets installed incorrectly.  A tube pops off and water leaks through the floor to the unit below.  No water sensor systems were installed.  There is no visible evidence of a leak until the frantic owner below calls about water leaking through their ceiling.
The owner below does not have insurance and asks to split the repair costs.  Agreeing to do so would maintain a good neighbour relationship and sounds fair since the owner above caused the damage.
The owner below chose not to maintain insurance covering accidental water damage.  He was delinquent in his obligation to protect his home, and the home of his neighbours.
There may have been hidden damage to common areas between floors that also needs to be reported and repaired.
The best approach is to report the damage to your insurance company and management office, then to immediately install water sensor systems to  avoid a recurrence of this unfortunate situation.
Find Vendors in these Related Categories