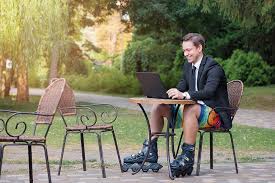 January 2021
Many have had their first experiences with virtual meetings and like what they've seen.  Some prefer the virtual approach to engaging via the annual general meeting, board meetings or other gatherings to discuss business or share information.
Virtual meetings have built-in efficiencies.  When registering or joining, attendees can be tracked by name and unit number.  This makes determining quorum a simpler process.  Proxies submitted beforehand can be manually tabulated to ensure they are reflected in counts.  A document displayed on attendee screens ensures everyone is on the "same page".  Attendees are less able to disrupt or go off-topic and speak out of turn.
Avoid Technical Glitches
If you have tested your system beforehand and have a good internet connection, attendees having trouble hearing or seeing may be having problems with their systems.  They may have a poor internet connection, an older system, or may be trying to access a meeting on an unfamiliar electronic device.
Many meeting systems allow attendees to dial-in and listen if unable to connect using their electronic device.  For meetings where a vote is to be taken and some anticipate being unable to connect, they can submit a paper-based proxy beforehand.
Advance preparation ensures meetings go smoothly:
Prior to any meeting ensure your internet connection, camera and microphone work.
The meeting moderator should be comfortable with controlling microphone access so those not actively participating have their microphones shut off to eliminate background noises or individuals speaking out of turn.
Anyone presenting documents for viewing should have access to their documents and know how to display them at the proper time.
Voting
Polling, a feature integrated with meeting technologies, is not an effective method of voting.  It allows meeting attendees to voice an opinion on a matter presented at the meeting but is problematic for official votes.  There is no effective mechanism for ensuring only those entitled to vote cast a vote, and no way to incorporate voting by proxy.  For communities of more than about 20 units it is impractical to ensure proper voting.
Hybrid Meetings
Hybrid meetings pose risks and may best be avoided.  The idea is to have some meeting in person with others attending virtually.  Difficulties arise in monitoring who is attending a meeting and voting while maintaining two systems.  Another challenge is ensuring both actual and virtual attendees can participate equally.
The risk of duplicate voting is high.  Ensuring those voting in person are not also voting virtually, and those voting virtually have not also submitted a paper proxy or ballot, is difficult.
Combining virtual meetings with electronic voting software, while lacking benefits of direct interaction, is a simpler system for meetings and voting with fewer opportunities for error or miscounts.
Find Vendors in these Related Categories