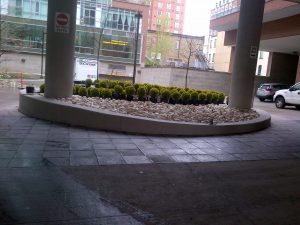 April 2017
Landscaping is an integral part of condo communities.
Good landscaping provides colour to an urban environment, space for residents to enjoy and adds to the value of condo suites.
Landscaping committees, typically composed of residents lacking large scale landscaping experience, play an important role in general landscaping matters. When it comes to central landscaping on large spaces or integrating lifestyle features such as seating, fountains or walking paths the expertise of a professional designer or landscaping professional becomes important to making the most effective use of this space while maintaining the value of a condo building and its suites.
The Condo Act recognizes that committee authority is limited to making recommendations to a condo board. When it comes to major landscaping projects, a good board will consider recommendations of a landscaping committee. They may consult with landscaping professionals and evaluate factors which may not have been considered by the committee. This may include overall scale, long-term sustainability, ongoing maintenance and other factors that may not have been considered by those without large scale or commercial landscaping experience.
In the case of Vu Condos, the process began with discussions by the Landscaping Committee in 2015. Their landscaping spaces, which are visible from suites and lobbies, include tiled walking paths used by residents to enter and exit the building. The board made the decision to employ a designer and landscaping company in order to maximize both aesthetics and value for condo owners. The project required tons of earth, hundreds of pounds of stone, three large trees, dozens of bushes and hundreds of flowers.
The project was completed in 2016.
Find Vendors in these Related Categories