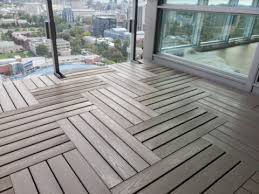 May 2022
Many high-rise communities have a shortage of outdoor space and an underutilized roof.  A rooftop terrace can be an effective solution providing desirable outdoor socialization space.
A "pedestrian paver" deck covering system can protect the roof from damage arising from pedestrian traffic, shoes, furniture and plantings.  Adjustable pedestals sit on top of the roof membrane without puncturing it or impeding drainage.  Pedestals can be adjusted to accommodate roofs angled to facilitate drainage.  Air flow beneath tiles is unimpeded ensuring no impact on expansion and contraction of the roof membrane, or its thermal efficiency.
Pedestals hold square tiles that come in styles that include porcelain, concrete and wood, and vary in size from six inches to two feet.  Tiles can be cut to fit corners and edges.
The paver system is easy to install.  Removal is easy when the roof is in need of repair.
Outdoor Floors Toronto specializes in the installation of outdoor flooring for high-rise communities.  Before installing a rooftop terrace, the company recommends that an engineering inspection be undertaken to ensure the roof can support added weight of those using the terrace plus furniture and plantings.  Pedestals can support up to 750 pounds each.
Consumer versions of these systems are popular on high-rise balconies.  They improve the look and feel of a concrete balcony without risking structural damage.
Find Vendors in these Related Categories