October 2018
Premier Ford has provided Toronto with a single issue that may determine the outcome of local elections later this month.
When Toronto goes to the polls on October 22 each of 25 wards will elect a local councillor.  Last election Toronto had 47 wards each with a local councillor.  This change aligns city wards with those of federal elections.
According to legal experts the provincial government has the right to determine the size of city councils in Ontario.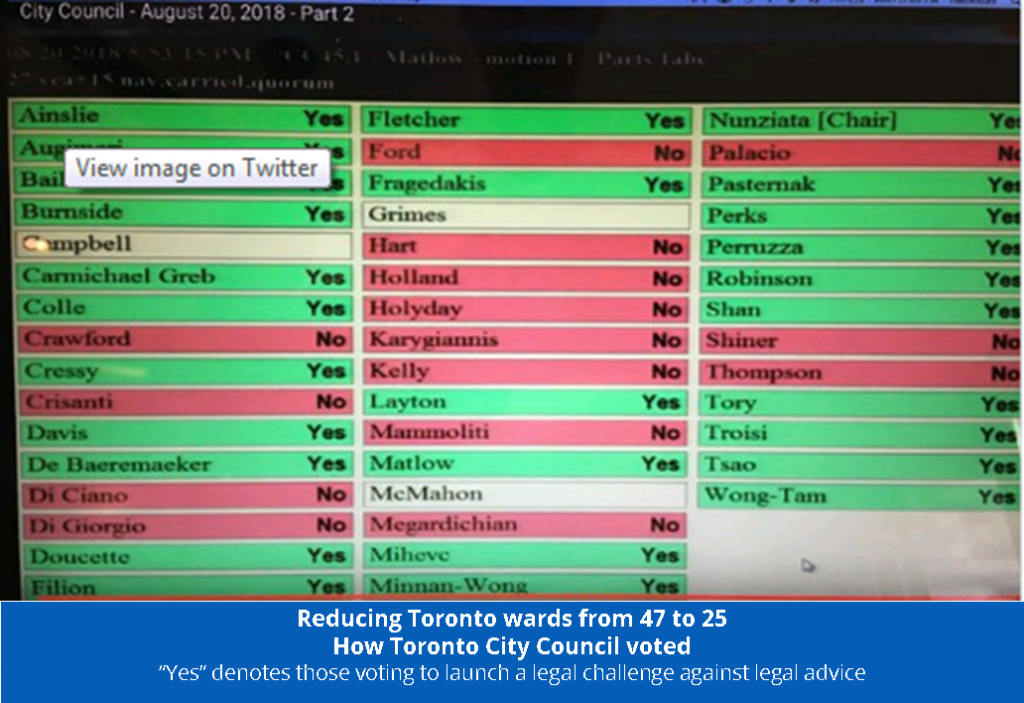 Toronto City Council voted 27-15 to direct city lawyers to fight this change.  A majority also  supported postponing the municipal election if necessary to complete the legal challenge. Their legal filing claimed that reducing the size of Toronto council after the election date was announced is "discriminatory and arbitrary", and violates the Constitution and democratic rights of city residents.  Toronto City Council, in choosing to challenge this decision in a self-indulgent waste of time and taxpayer money, displayed shockingly poor judgement.  The province has the right to realign wards for municipal elections as initially stated by legal experts.
Toronto Condo News undertook an informal and unscientific survey of about 30 individuals on their opinion of this change.  Every single individual supported the change although some disagree with the way it has been done.  If this result is indicative of majority electorate opinion, politicians voting to oppose this change may have already lost the election.
Proponents of this change believe Toronto City Council is dysfunctional and its size is a detriment to effective decision making.  They view reducing the number of elected politicians as necessary to improving the way our municipal government functions.  It is neither unconstitutional or discriminatory.  They see no drawback to reducing Toronto City Council to a number consistent with representation on a provincial and federal level.  Their view is that opposition to this change, supported by a final legal ruling allowing the  change,  is an attempt to protect political jobs and careers.  The expected $25 million saved with this change, while meaningful, is less relevant.  For proponents of this change, politicians supporting the legal challenge can be viewed as self-serving and undeserving of political office.
Concurrent with this change, elections for the head of council position in the regional municipalities of Muskoka, Peel, York and Niagara have been cancelled.  The position in each region will be appointed.