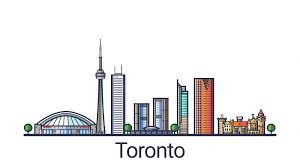 March 2023
Toronto celebrates its 189th anniversary on March 6 (2023). To commemorate we share tidbits from our storied history.
Toronto, originally "Taronto", referred to a channel of water between Lake Simcoe and Lake Couchiching; this Iroquois word describes an area with trees growing in shallow water.
Our PATH is the largest underground pedestrian system in North America.  More than 30 km of linked walkways connect over 1,200 stores and restaurants plus major attractions including Toronto City Hall, Hockey Hall of Fame and Metro Toronto Convention Centre.  More than 200,000 people use the underground PATH system daily.
There is a hidden subway station below Queen station, built to house underground streetcars and later abandoned. The shell remains and is referred to as Lower Queen or Queen Lower.
Now Toronto's most exclusive neighbourhood and most expensive shopping area, Yorkville was originally Potter's Field – the city's first public non-denominational cemetery.  The cemetery was closed in 1855. Yorkville was built on top.
Highway 401 (Toronto) is the busiest freeway on the continent.  Also known as King's Highway 401, its official name is the Macdonald–Cartier Freeway.
Humber College Lakeshore was originally home to a psychiatric hospital – asylums, psychiatric institutes and hospitals for those facing mental health issues.  Underground tunnels connected the buildings.
Toronto is the fastest-growing city in North America.  Our city offers a great lifestyle, safety, comfort and opportunities for earning income unavailable elsewhere.
Our streetcar system is the largest and busiest in the Western world.  The system has more riders, length of track and number of cars.
Toronto Islands were not originally islands.  The main island was once attached to the mainland.  An 1858 storm caused a peninsula to separate and created an island.  Subsequent storms and landfill, as the city grew, have created what we now call Toronto Islands which are accessible by ferry.
Speaking of Toronto Islands, Babe Ruth hit his first professional home run against the Toronto Maple Leafs at Hanlan's Point Stadium on Centre Island over 100 years ago.
While on the topic of sports, Toronto is the only city in Canada with seven major-league sports teams – basketball, football, hockey, baseball, rugby, soccer and lacrosse.
Finally, Toronto weather is much improved over past years.  Lake Ontario completely froze over in 1934 during the coldest winter of the 20th century.  Toronto's hottest day was two years later when temperatures hit 40.6 C. Within the city 80 people died during the heatwave.
The world needs more of Toronto.  Our urban growth and improving lifestyle spanning decades is an example to the world.