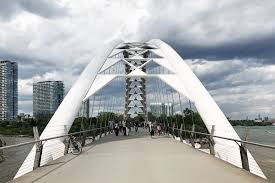 May 2020
For those days when you prefer not to exercise on a treadmill or stair climber in your condo's exercise room and also want to avoid urban congestion, Toronto offers running trails throughout the city.
No matter where in the city you reside, there are scenic routes nearby.
Waterfront and Islands
Martin Goodman Trail
Waterfront trails for 35-miles from east to west – Scarborough to Etobicoke.  Some of the most scenic areas are from Sunnyside Park going west to Humber Bay.  The trail goes through Sunnyside Park, Harbourfront and The Beach/Beaches – originally named for the four beaches in the area since renamed to the singular.
The Islands
After riding the ferry to the Islands, start at Hanlan's Point.  Follow the beach to Lakeshore Avenue then along the boardwalk.
Central
Beltline Trail
Through the middle of the city, this trail crosses bridges and goes through Mount Pleasant Cemetery. This flat trail goes from Bayview and Danforth north to Eglinton.

West End
High Park
More than 400 acres of greenery and landscaped gardens, between Bloor St. West and the Queensway, is accessible by TTC.  Runners can choose cardio routes on hilly areas or follow stretches of paved road to focus on endurance.
East End
Don River Trail
An uphill trail going north from The Beach – Lakeshore Ave. and Cherry St. to Edwards Gardens – and includes an entry point at Bloor and Bayview.