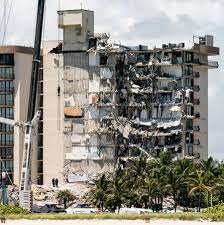 October 2023
Building failures are rare in North America. When Champlain Towers South in Surfside, Florida collapsed, one of contributing factors was salt.
Champlain Towers South was an oceanfront beach property always exposed to salt-spray. Salt causes corrosion in reinforced concrete structures. This in turn causes structural deterioration. Failure in repairing this deterioration eventually compromised the building structure which then collapsed.
While most buildings are not exposed to the same level of salt as an oceanfront beach property, all buildings are exposed to salt as de-icing chemicals enter underground areas through drainage and on vehicles. Prior to the late 1980s, salt was added to concrete during construction. Even buildings protected using waterproofing materials should be monitored for structural deterioration.
Protection measures include surfaces that do not allow water to pond and seep into a roadway or parking structure. This requires repair of damaged areas. Drains which divert water and salt away from the building structure need to be maintained to ensure they don't block up and fail to function. Parking areas should be regularly power washed to remove salt and damaging chemicals on the surface which are deposited through regular use. Balconies, parking garages, cladding, post-tensioning cables and even electrical systems should be monitored for corrosion and other defects as buildings age.
Avoiding building system failures requires effective condo board oversite, good governance, and proper funding of the reserve fund so that preventative maintenance is undertaken when necessary.