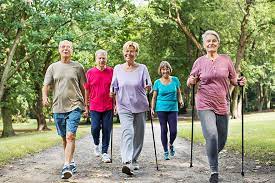 June 2021
Being physically healthy is the best way to fight COVID.
A 2020 study of nearly 50,000 Californians who had COVID-19 (Kaiser Permanente Fontana Medical Center) determined that those who exercised regularly before getting COVID did better than those who did not.  They were less likely to be hospitalized and die as a result of their illness.  Those consistently inactive had a greater risk of hospitalization and death from COVID regardless of age.  People exercising 10 minutes a week or less were hospitalized at twice the rate of people who were active more than 150 minutes per week.
Staying healthy can be a challenge.  Stay at home orders, closure of fitness centres and cancellation of activities during the pandemic makes this difficult.  High-rise communities have made exercising more difficult by closing exercise rooms and swimming pools, and prohibiting walking for exercise in hallways.  Outdoor activities, including walking, are impractical for many who are older or in poorer health.  Forcing residents to remain in their home without any form of exercise is causing problems including visible physical deterioration.
The importance of physical health is one message many have chosen to ignore.  The chief public health officer, in a 2016 report, states that one in 10 children and two in 10 adults were meeting Canada's guidelines on physical activity.   Adults should get 150 minutes per week – 20 minutes per day – of moderate to vigorous physical activity such as walking or jogging.  Children should get 60 minutes per day of physical activity.
Benefits of physical activity are clear.  It improves immunity to disease and physical wellness.  Mental health and emotional  well-being have been worsening during COVID as more people become less active.
Find Vendors in these Related Categories