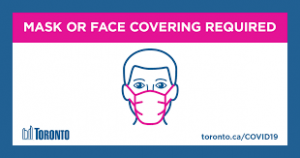 May 2021
In Canada, government and condo boards have limited authority over what occurs in a private residence.  The authority of condo boards has been tested on the issue of mask wearing.
A Burlington couple is able to move about their condo building without wearing masks as they enter and exit the building, check mail, access parking and use the elevator.  They are not permitted to visit other floors without masks.
The couple claimed they cannot wear masks due to medical issues which include difficulty breathing when the nose is covered, becoming light-headed and dizzy.  The condominium corporation sought to enforce their requirement that masks be worn in common areas.
Burlington, Halton and Ontario have bylaws and regulations that provide exemptions to the requirement to wear a mask.  The Ontario regulation states "it is not necessary for a person to present evidence to the person responsible for a business or place that they are entitled to an exception".  Burlington's municipal by-law is clearer and states "shall not require any person…. to provide proof of any of these exemptions".  The judge ruled that the condominium corporation cannot institute a mask wearing policy inconsistent with these government bylaws and regulations.
The judge recognized the corporation's right and obligation to protect other residents from undue risk.  The couple's movements within the building while not wearing masks are subject to restrictions.
In single family homes there is no external oversight over wearing of masks, physical distancing and activities which include use of exercise equipment.  Making high-rise condominium homes subject to greater oversight by government or condo boards is a risky precedent.  In this ruling the judge appears to have balanced the obligations of the condominium corporation with the rights of owners.
Find Vendors in these Related Categories