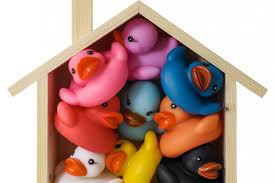 January 2019
Families with young children have become quite innovative at making better use of limited space in a condo.  With the average condo being 800 to 900 square feet, better use of space is the only way to accommodate the needs of both adults and young children.
With more than half of all Torontonians now living in condos, more efficient space utilization will be increasingly important to more people in the coming years.
Toronto Decorating Corporation provides renovation, refurbishment and maintenance services for condo corporations and suites.  Louis Evagelou, company President, offers suggestions for making optimal use of the bathroom while keeping it a safe and comfortable place for young children.  "For families with young children, transforming a bathroom to a nursery is simple.  Create a bassinet out of a bathtub by placing a platform over it.  Use shower curtains as blinds to make the space dark.  For slightly older children the bathroom can be used as sleeping space by adding a crib.  Space under the sink can be used as a closet for baby clothes or storage.  Bathtubs can also be used as storage for a stroller that cannot be left in a hallway or on a balcony."
Backs of doors are unused space suitable for storage.
For the rest of the condo home Mr. Evagelou suggests multi-purpose furniture.  "Well-designed furniture can serve multiple purposes.  A daytime sofa can convert to a pullout bed with headboard and nightstands.  A coffee table can convert to a dining room table.  For those who need space for friends who visit, an accent chair can convert to a bed."
These and other transformative furniture can be found in local stores that specialize in condo furniture.
The Condo Archives includes condo renovation ideas for the condo home and common areas.  Articles include: