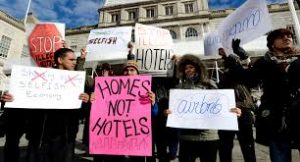 June 2018
Airbnb hotels, condos and buildings offering short-term rental accommodation are a global problem.
In New York City it is generally illegal to rent an apartment for fewer than 30 days.  This tends to be ignored in the East Village, an area some now refer to as Suitcase Alley.  Short stay visitors to the city can often be seen lugging their suitcases.  Some estimate that about 55% of Airbnb listings in New York City violate the law.  New legislation, if approved, would create one of the most stringent home-sharing laws in the USA.  It would forbid landlords or tenants to list apartments for short-term rental.  Those who ignore the law could receive fines of up to $7,500.
Chicago has imposed a 4% tax on each rental.  This money is used to help fund services for the homeless.  Residents with single-family homes can obtain signatures to limit Airbnb in their area.
Airbnb began as a good idea; a way to generate supplemental income by renting out a spare room in a primary residence while providing guests with a "local" experience.  It has grown into a service that reduces the availability of rental properties.  It facilitates tax avoidance thus reducing tax revenues needed to support public services while creating problems for local communities.
In Vancouver a University of British Columbia study found that 77% of local Airbnb revenue comes from properties that are not an owners' primary residence.
Landlords are getting into the hotel business without paying tax on this income or charging hotel taxes.
Find Vendors in these Related Categories