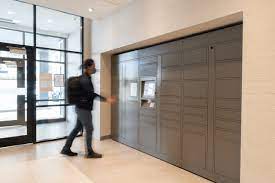 November 2023
Lobbies that have not been redesigned for 20 years don't match today's needs, particularly when it comes to package storage.
Lobbies designed in the 1960s, and even many new lobbies, include a doorman, security or concierge station and minimal package storage.  Those lobbies frequently include extensive seating and open spaces.  There may be an installed a screen or unit to partially hide but not protect packages which are likely lined up and in the open, against a wall or window.  This approach is an inefficient use of space putting packages at risk of theft.
When redesigning the lobby, consider the complete space rather than trying to solve a single problem.  Take a closer look at your entire lobby including what may be a cramped or unprotected mail room.  Consider how much lobby seating is actually needed.  Then review your package flow and determine how much space is really needed.
One approach is to rebuild the security/concierge desk with less space in the front and more behind nicely designed panels and a door leading to a larger and more accessible storage room for packages.  Smart parcel lockers, if added, do more than create space for packages.  They simplify the receipt of packages by residents while freeing up security to focus on other matters.
Space can be set aside for dry cleaning or laundry pick-up and delivery.  A cooler can be installed for storage of perishable deliveries.  The rest of the lobby can be used for seating.  Depending on available space, a reading or card room can be created.