February 2017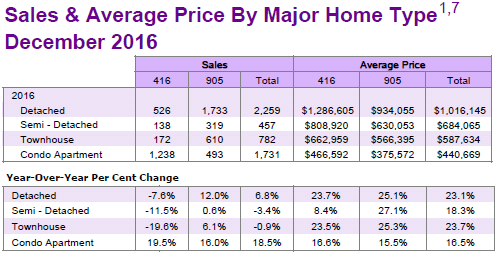 Condo living continues to be increasingly popular at the expense of other forms of housing.
Toronto Real Estate Board reports that 2016 was a record year for condo sales.
Condo sales outpaced all other housing and represented nearly 60% of all homes sold in 2016. Detached homes represented 25% of all home sales.
The average selling price of a Toronto condo in 2016 was $466,592, a 16.6% increase over the prior year. This is nearly $100,000 more than condos sold just outside the city.
The number of condos sold increased 19.5% over the prior year while the number of sales for all other forms of housing declined.
---
Andre' Tarjan and May Kan, of Royal LePage Golden Ridge Realty, specialize in selling condo suites. They can be reached at www.TeamStellar.ca. For a free home evaluation contact May at 416-854-2897.
Find Vendors in these Related Categories