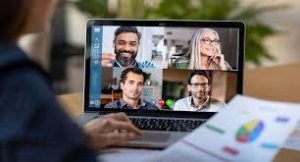 November 2020
One community shares its experience with virtual meetings.
This 980-unit community had its annual general meeting scheduled for May and chose to proceed despite the pandemic.  More than 2,000 residents attended a virtual meeting along with 31 meeting participants including the condo board, condominium manager, committee chairs and accountant.  The decision to proceed virtually made more sense than cancelling, rescheduling and proceeding virtually at a later date.
The board was already conducting board meetings virtually and found them advantageous.  Board members attended from home rather than commuting to a meeting lasting late into the evening on a weeknight.  They found it easier to share documents on a screen while working on a motion.  Discussions were faster and meetings finished earlier.
A meeting package including proxies was delivered to everyone to ensure those without computer access could participate.  Owners had the option of mailing their proxy in advance or voting during the meeting.  The meeting achieved quorum and online votes outnumbered proxies nearly three to one.
To streamline the meeting procedures were followed:
Owners were asked to submit questions beforehand
Participants spoke when called upon
The meeting was recorded and video accessible at a later date to those unable to attend at the specific date and time.
Overall, the virtual meeting was a success.  Attendance appeared to exceed that of in-person meetings.  The meeting took less time and proceeded more smoothly.
Virtual meetings, while beneficial in many ways, are not community events where owners can speak with others and share experiences.  Group discussion and collaboration can be less effective.
---
Ways to Vote at a Virtual Meeting
When holding virtual annual general meetings streamlining the process is important.
Owners can submit their proxy or ballot(s) by email, fax, overnight courier or regular mail before the meeting.
Many, perhaps most, will likely choose to vote during the meeting by raising their hand, submitting their vote in the meeting's chat room, or texting their vote to a number provided at the meeting.
---
Find Vendors in these Related Categories