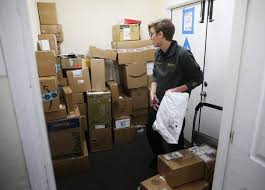 October 2016
The popularity of online shopping is inundating some buildings with a deluge of packages.
Two trends are converging. One is the growing interest in high-rise living. Another is increased online shopping. This is resulting in a growing mountain of packages in back rooms, storage areas and management offices to store packages for residents. Management offices have resorted to tracking down residents, finding places to store packages and improving the pace of resident pick-up.
One of the largest building operators in the USA, managing 59,000 suites in 10 states, received nearly 1 million packages in 2014. The rate was increasing by 50%. Package management was costing them more than $3 million per year. They have stopped receiving packages in their 169 properties.
Some management offices are experimenting with installation of electronic lockers for secure package delivery. After delivery, residents receive notice and a code to open the locker and retrieve their package. Some buildings provide residents with direct access to a locked package room with security cameras. Yet other buildings impose size and weight restrictions on packages that will be accepted.
Higher end buildings are having concierge staff deliver packages direct to the suite rather than tracking down residents and holding packages for longer periods of time.
Another option considered by some buildings is to allow carrier delivery of packages direct to the resident's door although this does create an increased risk of theft and other security concerns.
The goal for management is to reduce the number of times a package has to be handled, or to eliminate management or concierge from serving as a middleman when it comes to package deliveries.
For buildings where package delivery is restricted or prohibited, residents may be required to make arrangements to ship packages elsewhere, or to pick-up packages at a nearby post office or carrier depot.