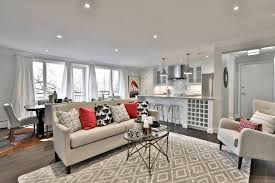 January 2020
Open concept floor plans are increasingly popular.  Having a single open area incorporating kitchen, living room and dining room can make it easier to entertain.  A single line of sight from kitchen to living room makes it easier to experiment with cooking while viewing your big screen Smart TV. The lack of walls provides more usable space and air flow.
Floating furniture, moving away from the wall toward the centre of the room, is a great way to make a larger space more comfortable.  Place a large rug in the centre of the room (don't be afraid to angle or layer rugs) then rest the front furniture legs on the rug(s).  Add a grouping of smaller tables to create a coffee table centerpiece.  When entertaining, furniture can be moved aside to open the area up.
---
This condo design tip is provided by ADM Design Inc.  Visit their website at http://admdesign.ca.  Newmarket/Aurora & Friday Harbour showrooms open to the public and trades in the GTA and beyond.