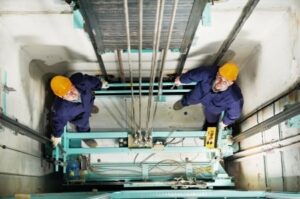 November 2022
A shortage of trained elevator technicians is the reported cause for more elevators to be out of service for extended periods while waiting for what can be the simplest of repairs.  New elevator legislation, after long delays and now in force, is a first step at trying to improve the situation.
Condominium buildings report the lowest average availability of elevators by building type, at 93 per cent.  An out of service elevator can take hours, days, weeks or months to be repaired and placed back in service.  There are almost 20,000 passenger elevators across more than 10,000 residential and institutional buildings in Ontario.  About 1,550 are over 50 years old.  Another 10,000 are between 24 and 50 years old.
The Canadian Press reports that Ontario firefighters responded to 4,461 calls to assist people trapped in elevators in 2015.  This is double what was reported in 2001.  Many more elevator entrapments were likely resolved without assistance of firefighters.  Toronto accounted for 2,862 of these calls for assistance.
As of July 1, 2022, elevator legislation was proclaimed into law.  If an elevator in a building used partially or entirely for residential occupancy experiences an "outage", a report must be submitted to the Technical Standards and Safety Authority (TSSA) no later than 30 days after being returned to service.  An "outage" is defined as out of service for 48 hours or longer.  The report must include specific information including outage details, building address, elevator maintenance schedule, and names of manufacturer and maintenance contractor.
At this time, there are no financial penalties imposed for non-compliance with legal requirements.  Elevator outage data will be provided for online publication.   This data will be searchable online by address.
The new regulation can be accessed here. The TSSA's announcement of these requirements and a link to the portal can be accessed here.
Find Vendors in these Related Categories