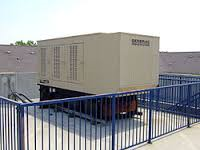 June 2016
A Toronto Hydro report recommends that high-rise buildings replace their emergency generators.
This is a new and potentially costly approach for providing back-up power to high-rise buildings.
Response of Toronto Hydro-Electric System Limited to the December 2013 Ice Storm is a report put out by Toronto Hydro. During this storm it took 11 days to restore power across the city. Thousands had no light, heat or water during this time and were forced to evacuate.
In this report an independent review panel recommends that high-rise buildings be required to provide back-up power for a longer period of time. Implementing this recommendation requires that condo corporations consider a new approach to providing emergency power.  The condo corporation needs to consider the value of investing more than $800,000 for power generation equipment against the inconvenience of a building evacuation.
The current requirement is that high-rise buildings provide sufficient power so that residents can safely evacuate in the event of an emergency.  The law requires that back-up generators provide back-up power for fire pumps, elevators and sufficient lighting so that a building can be safely evacuated.
These requirements are consistent when the focus is on evacuation of a building. Diesel generators serve their intended role which is to get people out of a building.
Diesel generators are the traditional solution for power outages. They operate from hours to a few days before running out of fuel.
The report changes the definition of back-up power to reflect safe occupation of a building during severe weather emergencies. Natural gas generators provide a solution consistent with this new definition of back-up power. They provide power for a much longer period of time allowing heat, light and elevators to operate for many days.
Generators are rarely used due to the infrequency of power outages.
A conventional diesel generator for a high-rise building can cost over $800,000. Replacing this equipment with a natural gas generator can cost at least as much money.