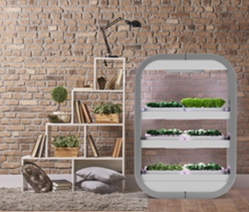 June 2017
Interested in growing your own produce for year-round use?
Modgarden is an indoor micro-garden for condos and apartments.  It includes built-in lights, an automated watering system, and uses organic soil.
Its designer describes Modgarden as a "tiny farm" designed to grow a variety of vegetables and herbs.  The system is fully automated other than planting seeds and filling a reservoir with water.  It sends a text message when the reservoir needs to be refilled.
Modgarden was presented at the National Home Show in Toronto.  Prototypes are being used by local restaurants.  When available for purchase, it is expected to sell for $600 to $1,000.
Find Vendors in these Related Categories