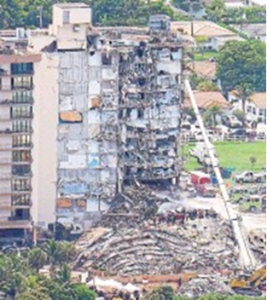 August 2021
We've all read about Champlain Towers, a recently collapsed Miami Beach condominium building.
The simple fact is that buildings don't just fall down. There is always a reason. These reasons are usually technical. At Champlain Towers, problems were identified in engineering reports and through inspections spanning multiple years.
This should serve as a wake-up call to high-rise communities that regularly defer maintenance as a strategy for keeping condo fees low. The general assumption is that any building standing and in use is safe. Most jurisdictions in North America tend to lightly regulate checks to ensure a building's exterior walls and façade don't crack or crumble. There is an absence of protections to ensure buildings are properly inspected and that necessary preventative maintenance is undertaken. Damage continues to worsen when not addressed and increases the risk of catastrophic failure. In most instances costs escalate as maintenance is delayed and avoided, but eventually occurs prior to catastrophic failure.
The simple truth is that owners didn't believe their home was at risk of imminent danger. They balked at paying repair costs. Five of seven board members resigned in 2019 over disagreements on how to proceed. In April of 2021 dozens of owners signed a letter that said "We cannot afford an assessment that doubles the amount of the maintenance dues currently being paid". In the spring of 2019, a letter from the board to condo owners stated "This will be a challenging time for all of us at Champlain Tower South," and "Our building has been neglected for some time and we have to begin preparing for our upcoming Recertification. The board is working very hard to find ways to meet the desperate needs of the building. It would be irresponsible to continue to ignore these needs."
The Ontario Condominium Act requires condominium corporations to maintain reasonable reserves in a reserve fund. There is no definition of what is reasonable and communities are allowed to use these funds for certain non-maintenance purposes. Reserve fund studies, which are required in Ontario, can be dated or not adhered to.
Champlain Towers had major structural issues. Known problems should have been dealt with quickly. Surveillance-video from a nearby building recorded the collapse and was reviewed by investigators. They suspect the collapse started at pool level, then crumpled the parking levels beneath. The resulting crater compromised integrity of the tower itself and a part of it fell inward towards the crater.
Management decided against immediately dealing with known problems and appear to have lacked funds to undertake repairs. Preventative maintenance was improper, possibly because of the cost. Red flags were ignored and known issues not addressed. This occurs when condo fees are insufficient to maintain a high-rise home and management is forced to defer necessary work because of financial constraints.
Condo owners at Champlain Towers were making payments toward more than $15 million in repairs based on the current repair estimate. These repairs were initially estimated at $9,128,433 when recommended nearly three years earlier to address "major structural damage". Assessments ranging from $80,190 to $336,135 had a July 1 deadline which was about a week after the collapse.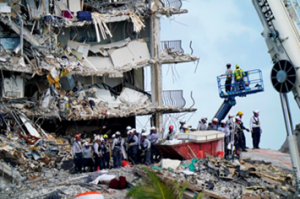 As the Miami experience shows, the cost of failing to properly maintain a high-rise home can be extraordinarily high. Many lives were lost when the building collapsed and the resulting fire. While Ontario's Condominium Act may not be perfect, it requires owners to contribute to a reserve fund (not required in Florida) and offers a higher degree of transparency. The Champlain Towers building collapse is less likely in Ontario because of the Ontario Condominium Act.
Building and engineering reviews serve a purpose. Brown & Beattie, Criterium-Jansen Engineers, M & E Engineering Services and McIntosh Perry are just of a few of the highly-qualified companies with expertise to undertake a building review. When problems are found, communities must find a way to undertake repairs to avoid the risk of a major collapse such as what occurred in Miami. Most communities with insufficient funds should be able to obtain a loan repayable through future condo fees.
The Miami building collapse could have been prevented had there been proper oversight and regular care of building infrastructure. This disaster did not need to happen.