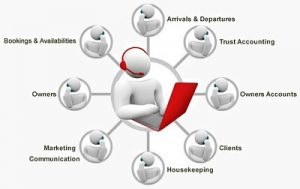 April 2019
Short-term condo rentals have become a popular topic within condo communities.
Some communities embrace short-term rentals as an individual choice made by condo owners.  Short-term rentals may also elicit concerns that include safety, security, lifestyle and adherence to condo rules.
The internet has made short-term rentals easier to promote.  They have become a way to make extra money for condo owners but at a cost to condo neighbours and the condo corporation.
Condo corporations concerned with short-term rentals have the resources and authority to control them.
Nadlan-Harris Property Management and Duuo, a provider of insurance for short-term rental hosts that is part of The Co-operators, have teamed up to offer a four-step process for managing or controlling short-term condo rentals and how it can be implemented.
Review Governing Documents
Governing documents – declaration or rules – may currently have restrictions or prohibitions against short-term residency.  Where no mention is made of short-term rentals, or where governing documents are not in line with current intentions, they can be modified.
Minimum lease terms – 6 months or 12 months – can be added or removed in accordance with what is desired
Prohibitions on transient use can be added or removed
Permission can be required for short-term use
Check-in and check-out requirements can be implemented for short-term use
Communication and Documentation
Residents and staff should be informed of short-term rental policies and how they can assist in enforcing any restrictions that may exist.  Distribute a one page document identifying short-term rental policies as provided in the declaration or rules.
Residents can be encouraged to advise the concierge, security or management office when they suspect a suite is being improperly used for short-term stays inclusive of date and conduct being noted.  Security, concierge and management can be instructed to log date and noted conduct for those suspected of short-term stays.  Those entering with suitcases can be confirmed as residents or visitors and logged along with suite number.
Be Proactive
When there are prohibitions or restrictions on short-term rentals, short-term stay websites can be monitored for postings for your building with suspected suites documented by making a copy of postings.  Popular websites for short-term stays include Airbnb , Kijiji, Craigslist, VRBO, TripAdvisor, Homeaway, Flipkey and Roomorama.
Enforcement
When short-term stay residents are identified, condo corporations may consider enforcement actions which include:
Denial of building access to non-residents
Denial of access to common areas
Deactivation of fobs for any suite where non-residents are found to have been provided access in contravention of condo rules
Recovery of costs to identify offending suites when these costs are charged by an agency and directly attributed to that suite
Legal action
Find Vendors in these Related Categories