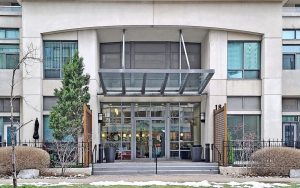 July 2021
The desire for good views from high-rise buildings has led to greater use of glass for doors, larger windows and window walls.  Looking out over the city, playgrounds, gardens or trees is highly desirable.  Large glass windows provide these views.
Window walls are aesthetically more pleasing.  Designers can be more creative and high-rise residents love the results.  Larger windows and window walls can be more important than outdoor balconies which may be infrequently used even during warmer weather.  They offer nicer design, more natural light and better views.  Auto darkening features allow for privacy and protect against sun.
Great condo views of the city don't look so good through dirty, damaged and leaking windows.
Traffic congestion, dirt, birds, air pollutants, pollen and weather all end up on condo windows.  Rain, which contains dirt and other stuff, adds to this buildup of pollutants.  Whatever hits a building can slide down and stick to windows.  It dries and builds up over time.  Improperly maintained, stains become permanent.
Windows require regular outside cleaning.  The ideal window cleaning schedule for large urban settings is about six times a year.  Most buildings limit window cleaning to twice a year using a solution of dishwashing detergent and water which is safe for use on virtually all buildings.
There exists a shortage of window cleaning professionals to service Toronto's high-rise buildings.  Few people are comfortable with the dangers of window washing up high in all types of weather and without a safety net.  Window cleaning occurs year-round so long as the temperature is above freezing and winds are below 50 kmh.  The busiest period is spring according to Michael Grist of Professional Choice Cleaning Services, which offers general and window cleaning services for high-rise communities.
Cleaning of the inside portion of windows and window walls is a resident responsibility as is accessible outdoor glass such as on a balcony.
Outdoor sealants and indoor caulking dry up and become ineffective if not regularly replaced.  Glass surfaces can crack or break. Excel Projects, which offers window cleaning and repair services for buildings of any height, reminds us that "unrepaired windows, window walls and doors are a safety hazard.  They prevent your heating and cooling systems from working properly.  Infiltration of water and air can cause mould."
Find Vendors in these Related Categories