October 2018
Parking space is no longer a necessity for condo living. With a parking space adding $30,000 or more to the purchase price of a condo, buildings with fewer or no parking spaces can be appealing to developers and condo residents.
Until recently condo developments were required to provide at least one parking space for each suite plus additional spaces for guest parking. This is no longer the case. Newer developments now offer fewer parking spaces. Those that are available can be purchased separately from the condo. In some developments parking spaces are no longer available.
This approach works when alternate transit is readily available and frequent destinations such as work, transit, grocery stores and entertainment are within walking distance.
For those who do require parking space for their car local private parking services are available.
Condo developments are looking at new approaches to parking that require less space. Vertical lifts or "parking elevators", popular in Europe, are movable platforms which lift cars up and out of the way until needed.
Valet service can help economize on space. Parking may be located in a nearby garage or in an underground area inaccessible to residents. An employee retrieves the vehicle when requested.
Reducing the need for parking space may be the best approach. In place of resident parking space buildings may incorporate on-site parking for grocery or dry cleaning delivery services. They can encourage the use of bicycles and ebikes by providing convenient space for them. Some buildings include a separate entrance for bikes and ebikes leading directly to a bike room with facilities for bike cleaning and repair.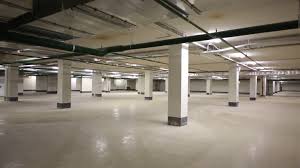 Transportation services such as Uber help ease demand for parking space.
The need for automobile parking is unlikely to go away. As more people utilize alternate methods of transportation and have access to more of what they require within walking distance, the demand for space to park cars is likely to decrease. There may be a time, not too far off, when condo owners no longer have need to own a car for personal transportation.