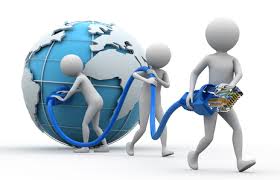 September 2018
What features do condo residents require in their internet, television/cable and telephone services?  And how much should it cost?
Comparing services can be confusing.  Bell Canada, Rogers Communications, Shaw, Fibrestream, Cloudwifi, Comwave and TekSavvy all offer competing services.  Terminology and packages make comparisons a challenge.  Some focus on speed while others focus on capacity, data or price.  Some offer bundling discounts – combining two or more services from one company – with savings of up to 30%.  What appears to be a "good" price may not be as good as it appears.
Obtaining the best price with the right service is a two-step process.
Identify Requirements
The diversity in what people desire in terms of internet, television/cable and telephone service (excluding mobile) makes it difficult to compare competing services.  Being clear on what services and features are needed depends on personal preferences and requirements. Rogers Communications, one of the largest providers of internet, television/cable and telephone services in Canada, explains the most common offerings.
Internet
Online games require fast response time which may be described as upload/download speed.  Online games and streaming services, for movies and other programs which may include Netflix, have heavy data requirements.  For general internet use, e-mail and limited viewing of movies and YouTube, higher data limits may be unnecessary and faster response time (speed) may be unnoticeable.
TV/Cable
TV/cable services differ from what they were a few years ago.  Traditional cable remains available without internet access.  Some companies offer cable services over the internet.  A growing number of people no longer desire traditional television or cable, preferring access to similar services over the internet – what may be described as streaming.  Access to television or cable over the internet requires higher data capacity at greater cost, or a service providing unlimited data.  Premium services include program recording and viewing of recorded programs throughout the home which are available through some providers.
Telephone
Traditional landlines offer more reliable service and continued service during a power failure.  For many, the flexibility and convenience of mobile phones is more important.  Some prefer both.  Considerations may include the need for Canada or Canada/US long distance services, or features such as voice mail, call display or call waiting.  Personal requirements will determine what phone service works best.
Services Selection and Price
Once clear on what services are required, one service may be better suited or more economical.  The chart accompanying this article provides 2018 pricing for Toronto-area services based on company websites and local mailings.
Toronto Area Internet and Cable Service Pricing
Based on May 2018 website pricing and mailings
Internet (monthly)
Telephone (monthly)
TV/Cable (monthly)
Rogers
$72.99 – undiscounted
$49.99 – bundling discount
$24.99

Landline including voice mail, call display, call waiting
Unlimited Canadian LD

$96.98 – undiscounted
$68.98 – bundling discount

Includes PVR/Nextbox, two connections and broad channel selection excluding PayTV channels

Bell

Basic $59.95 first year, then $94.95

Unlimited data
TV/Internet – $89.90 (promo at $74.90 with "starter" TV package, converting to $119.90 after period)

Bundle pricing only

TV/Internet/Phone Packages – $99 – $139

Additional for long distance

Cloudwifi
(condos only)
$35 – discounted
$70 – undiscounted

Not available

"Free TV" option for residents in place of TV / Cable subscriptions.

Shaw
$105 – undiscounted
$99  – two year promo
$33
$184 combined TV and internet

Fibrestream
(condos only)
$35
$20

+$5 for voice mail, forwarding and all other features
Unlimited Canada/US calling

$33.95 to $44.95

Premium services additional

Comwave
$49.95
$14.95

$19.95 – unlimited Canada calling
$29.95 – unlimited long distance

$40

$60 – Premium package
All packages include PVR, HD

TekSavvy
$41.95 (slower speeds) to $79.95
Presumably unlimited data
$25.08

Additional for features
Add $19.95 for unlimited NA calling.

Not Available
Find Vendors in these Related Categories