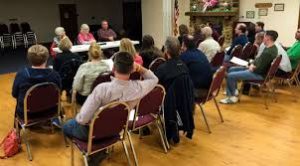 July 2014
Ever wonder why so many people choose not to attend the Annual General Meeting (AGM) or other meetings of importance?
Many are boring and take much longer than necessary. Certain individuals may monopolize speaking time addressing personal rather than condominium issues. The focus of these meetings gets forgotten.
The Annual General Meeting (AGM) is the most important of all condominium meetings. It is a time when condo owners vote for new board members who will make decisions on behalf of the corporation. These decisions have a direct impact on all condo owners. The Annual Report is presented and relevant questions asked. One or more issues may require a vote of owners.
These are important matters that can have a direct impact, financial or otherwise, on all residents. Yet many condo corporations struggle to get sufficient attendance to meet the legal requirements for voting.
Some suggestions for improving attendance at the AGM and other important meetings:
Consider holding the meeting in a local hall rather than within the building. Providing an outside venue helps to convey the importance of the meeting.
Have the meeting moderated by an experienced individual. Run the meeting as professionally as possible. Do not allow the meeting to be sidetracked by issues not on the agenda. Keep the meeting as brief as possible.
For the AGM, keep the agenda focused on those items that are required.
Relegate other matters to a Community Forum immediately after the AGM is complete. During this Community Forum the board can provide an update as to what has gone on during the past year and what is planned for the upcoming year. There can also be an open discussion and question period where owners can bring up any topic(s). Owners would not be obligated to attend this session.
Combine the Community Forum with a Social Event in an adjoining room. Provide finger food and beverages.
Find Vendors in these Related Categories