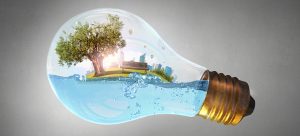 September 2020
We all know climate change and global warming is real.  We've seen the impact and nothing is likely to improve unless we act differently.
About 50 percent of all emissions come from buildings.  Most remain unaware of their contribution to climate change, pollution, and how they can act more responsibly.  High-rise building residents have little understanding about how much energy they or their building utilize, and how much more they pay for unnecessary waste.  The complexity of ensuring their suite is cool in summer, warm in winter and that hot water is available when desired is not something most consider.  Equipment and systems must interact to maintain the balance necessary to achieve this without wasting energy and adding unnecessarily to cost.
Much unnecessary waste comes from old, outdated and poorly maintained HVAC systems that heat, cool and provide fresh air to your building.
Newly built buildings utilize newer systems and technology to reduce both energy use and emissions however even most of these don't have that additional layer of intelligence – Artificial Intelligence (AI) -based algorithms – that allow real-time reaction to energy usage fluctuations.  AI is the HVAC "Brains behind the Brawn" that delivers results.  It's a disruptive, albeit positive "climate friendly" and cost-effective solution to system processes that have remained largely unchanged for decades, despite advances in technology in every aspect of lives moving forward almost daily.
Parity Inc. has developed an artificial intelligence system to better control HVAC systems.  The system "learns" the energy use pattern of your building while the system brain automatically adjusts your building heating and cooling systems in real-time.  The result is improved energy efficiency, fewer emissions and lower cost while improving overall comfort.  Their smart energy platform can reduce energy waste and operating costs by up to 30 percent.
On a real-time basis the Parity system looks at how much electricity, gas and water are being used.  Systems adjust to use the minimum necessary to maintain resident comfort levels.  This differs from standard Building Automation systems (new and old) that use more energy than necessary then return unused cooling or heating to the environment in the form of CO2 emissions.
In a high-rise condo building 40 to 60 percent of the budget can be comprised of energy expenses.  A 30 percent reduction in these expenses can be a saving of hundreds of thousands of dollars each year.
A Parity video explains the environmental impact of high-rise buildings. Click here to view.  A second video describes how advancements in technology help buildings to improve their environmental footprint.
Systems can be installed and implemented at no cost to building residents.  For more information visit www.paritygo.com or call 1-833-372-7489 to get started.