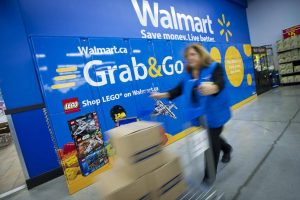 January 2018
Supermarkets are experimenting with e-commerce to reach condo dwellers.
Lack of vehicle ownership among younger people and condo dwellers makes it less likely that customers will travel to supermarkets.  E-commerce is being utilized as a way to better service this group of consumers which is more likely to utilize vehicle sharing or taxi services when transit is impractical.
Loblaw allows customers to order online.  The store will pick and pack groceries, and have them ready for pick-up.  Customers drive to the store and pick up their order.
Loblaw is one of numerous supermarket chains trying to attract customers to online pick-up services.   Wal-Mart is also a major player in this area.  Both companies have found that customers prefer to pick up their orders instead of sitting at home waiting for delivery.  Their goal is to get customers in and out of the parking lot in less than five minutes.  Metro has announced plans to offer a similar service.
Customer sales are about three times higher for online orders that in-store customers.
Pick-up is seen as a more convenient way to shop.  It also helps compete against Amazon should they offer food services in Canada.
Loblaw charges a click-and-collect fee of $3 which is less than the typical online order and delivery charge which can be $10 or more.
Online grocery shopping represents less than 1% of Canadian grocery purchases.  Profitero, an e-commerce research company, estimates that online grocery sales are expected to increase by up to 400% and reach 3% of grocery purchases by 2018.