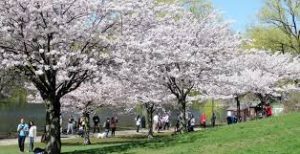 July 2020
You don't have to leave the city to get away from traffic and congestion.  Toronto offers more than 1,600 parks and green spaces that include walking trails and great views accessible by transit.
A top choice for walkers.  Walk along the beach next to cool water and with a skyline view from some areas.  The west side of the beach is popular with kite boarders.
One of the prettiest places in Toronto with paths, trails and wooden bridges crossing the Don River through what may be the best maintained grounds in the city.  Walkers will find roses, wildflowers and rhododendrons among the many paths and walkways.  Edwards Gardens is a popular destination for wedding pictures.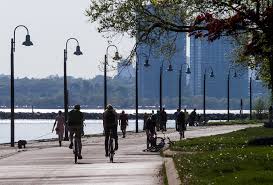 Marilyn Bell Park lakefront promenade
For those who like walking near water this gets you as close as possible.  Looking across is a view of the escarpment.
Known for its beach areas, people-watching, and views that make Lake Ontario seem more like a calm ocean.
High Park is a favourite for city dwellers with trails through ravines, around ponds and over hills.  Viewing cherry blossoms in the spring is an annual tradition.
For those in the north end of the city, G. Ross Lord Park has many kilometers of trails, picnic areas and sports fields that make you feel your no longer in the city.  For dogs there is an off-leash dog park.