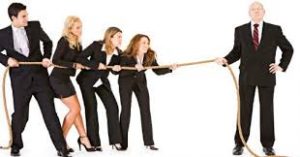 July 2018
Lifestyle conflicts are inevitable when different demographic groups, socio-economic backgrounds and generations live under a single condo roof.  Young professionals, empty nesters, partiers, children and seniors all have competing priorities and interests.  Some work a night shift and sleep while children play during the day.
Swimming pools are one contributor to generational condo conflicts.  Other contributors include noise, smoking, pets and Airbnb rentals.  Condo boards are expected to navigate these and other issues to resolution in addition to overall management of the building which includes repairs, waste management and all other activities.
One Etobicoke condo building prohibited "persons requiring diapers" from using the swimming pool for sanitary reasons.  A mother with a young child filed a grievance with the Ontario Human Rights Commission claiming their rules discriminated against people with children.  The corporation's lawyer recommended that the rule be suspended.  This advice was rejected by the primarily senior owners.
The building's summer barbeque was limited to "Adult Residents Only" to which the mother also brought her baby.
The building was initially promoted as an adults-only complex.  Their Adult Only rules, which controlled who could attend certain building events and use certain amenities, were intended to benefit empty nesters.
By the time this matter reached the tribunal there was open warfare between neighbours.  Some supported the bans against children arguing it was a health and safety matter.  Others were opposed.
The Ontario Human Rights Commission required that the condo corporation repeal the ban.  There was no medical, safety or other reason to keep young children out of swimming pools.  The board was required to pay the mother $10,000 in damages for emotional hardship.
While everyone has the right to peaceful enjoyment of their home, there is no clear definition of what this means.  All want the same level of freedom as a detached home along with the conveniences and privileges of condo living.  Catering to all these groups falls to the condo board and management.  Poorly navigated, these conflicts can lead to fights, threats, accusations and lawsuits.
An estimated 20 per cent of condo owners are under 35 and about 25 per cent are seniors.  Of the remainder, who are between the ages of 35 and their late 50s, many have families which include young children.
One sick or rambunctious child can cause havoc in a condo building with poor sound control or when parents have weak parental skills.  Crying, shouting and banging can take a toll on even the most tolerant of adults and result in actions many would later regret.  Neighbours yelling at neighbours, threatening texts, police and lawyers can all play a role if matters are not quickly resolved.
Some issues may result from poor building design.  It is nearly impossible to prevent sound from travelling between condo suites.  Condo residents that are the source of noise should be encouraged to be proactive.  Avoiding hardwood floors and use of carpeting are partial solutions.  Parents can control where and how rambunctious children play.
Common areas are important.  In the absence of play areas for children, there is no alternative to in-suite playing that may disrupt neighbours.
Generational conflict has and will continue to exist.  Condo living requires ways of addressing these concerns.
Find Vendors in these Related Categories