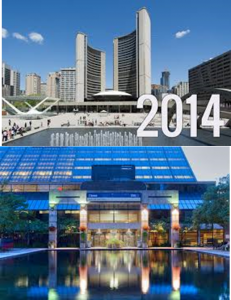 October 2014
Yonge-Sheppard Condominium News identified five issues of importance to condo residents in the Yonge North Corridor and asked candidates for office where they stand on each issue.
We contacted five Mayoral Candidates – Olivia Chow, Rob Ford, David Soknacki, Karen Stintz, John Tory – and three City Councillor Candidates – John Filion (Ward 23), David Mousavi (Ward 23), Dan Fox (Ward 24).
Some of these individuals are no longer candidates for office.  We include their responses to provide insight where some candidates choose to remain silent.
Property Tax Equity
City revenues are greatly enhanced by condos in the Yonge North Corridor.  Buildings of 30 stories provide annual property tax revenues at least 30 times greater than detached housing covering the same space.  Condo buildings are environmentally friendly and require less costly infrastructure on a per capita basis.  None of this is reflected in property taxes paid by condo owners.  Property taxes also do not recognize that multi-unit condominium buildings deliver Municipal services more efficiently than less dense forms of housing.
The Question – Do you support changes in the law to create new property tax classes that better reflect the cost of services provided to condo owners?
Candidate responses – No candidate responded to this issue.
Yonge St. / Hwy 401 Interchange
This infrastructure upgrade has been talked about for nearly 20 years.  The current design results in congestion affecting major and secondary streets for miles and is the single greatest source of congestion throughout the area.
The Question – Do you support and will you take leadership in making this infrastructure upgrade a reality, inclusive of necessary funding and commencement of construction, within 12 months of being elected to office?
Candidate responses – Only Karen Stintz responded to this issue.  "12 months is a tight timeframe … an environmental assessment should begin immediately."
Infrastructure Growth Funding
Development charges collected from condo construction have not been returned to the community to build utility, transportation and social infrastructure.  Improved funding is necessary to support what has already been built and accommodate future planned development.
The Question – Do you support greater transparency about development charges, how these funds are used and the use of these funds as close as possible to areas where they are generated?
Candidate responses – Only Karen Stintz responded to this issue.  "I do believe we need greater transparency in Toronto when it comes to development changes.  We should know how this money is being invested into building the Toronto of tomorrow."
Subway/Transit Expansion
One of the stated goals of subway expansion is to relieve subway congestion in the downtown core.  Should the Sheppard East line be extended to Scarborough, as proposed, this will not alleviate subway congestion along the Yonge Street line.  The Yonge Street line going south during morning hours is at or beyond capacity by the time it reaches Sheppard Ave.   The same is true for northbound travellers in the afternoon hours.  Commuters from an expanded Sheppard East line will only add to this problem.
The Question – How do you propose to deal with this issue and in what timeframe?
Candidate responses – Only Karen Stintz responded to this issue. "… my number one new transit expansion priority will be the Downtown Relief Line."
Ontario Municipal Board (OMB) Authority
Some believe that a private body should not have the right to overrule elected representatives and that politicians should make decisions about community development.  Others believe that politicians making such decisions would result in less effective long term decision making.  Such proponents feel that abolishment of the OMB would result in hasty and politically motivated decisions.
The Question – Do you support removal of OMB authority in Toronto and decision making authority for planning decisions being made by elected politicians?
Candidate responses – Only Karen Stintz responded to this issue "… I will appoint a Toronto Development Facilitator to work with communities on development issues … I will direct  the Facilitator to include the industry in her work to find win-win solutions on developments."
We believe politicians pay inadequate attention to issues affecting the condo communities where a majority of Torontonians reside.  Condo communities need to tell politicians continued failure at addressing condo issues is unacceptable.
Incumbents have failed to adequately respond to these issues and their track records should be scrutinized before any are returned to office.