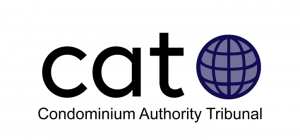 May 2021
Some advocate for elimination of the Condominium Authority Tribunal (CAT).  Others believe the Tribunal needs to expand.
The current system offers a faster and lower cost alternative to Small Claims Court but a limited jurisdiction that, until recently, only addressed record requests.  This jurisdiction was recently expanded to include restrictions in the declaration, by-laws and rules involving pets, vehicles/parking, storage, and chargebacks relating to disputes over these items. Within this limited jurisdiction the online Tribunal offers quick and efficient access to resolve disputes.  Condominium corporations and building residents benefit.
The Tribunal's decision to limit their jurisdiction is a travesty that should be corrected.  This allows them to avoid hearing the majority of disputes likely to be filed by condo residents and likely explains why they only hear an estimated 10 percent of disputes; extremely poor compared to the Civil Resolution Tribunal in British Columbia.  As in Ontario, the Civil Resolution Tribunal was established to help resolve strata disputes without relying on the court system.  Demand for its services has exceeded its capacity.
The Condominium Authority Tribunal was presented as a as a way to deal with all types of condo-related disputes.  Their self-imposed  limitation is inconsistent with the stated and expected purpose.
For those disputes heard by the Tribunal the cost of dealing with disputes has dropped.  Having legal representation in court can cost thousands or tens of thousands of dollars.  Most CAT hearings cost hundreds of dollars and don't require legal counsel.  Any party opting for legal representation must pay these costs which are not reimbursed by the other party through the Tribunal unless there are exceptional reasons.
Improvements can be made.  Some argue that access to CAT is too easy for individuals with repeated unreasonable requests.  Others point out that the Tribunal fails to address the majority of problems.  Still others find a separate Tribunal for complaints against condominium managers to be confusing.
Condominium corporations are still learning to navigate CAT.  One approach is to require the condominium manager to represent the corporation when appearing before the Tribunal.  Another is to increase the legal budget for representation by legal counsel.  A third choice is to rely on a condo director or other individual to represent the corporation as a volunteer or with compensation.
It's time for the Condominium Authority Tribunal to live up to its promise by expanding its jurisdiction to reflect the majority of condo-related disputes.
For more information see the following articles in the Condo Archives:
Find Vendors in these Related Categories