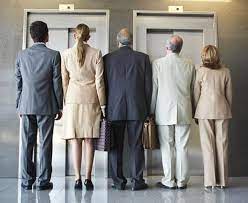 February 2023
Smaller units in high-rise communities are impacting in unexpected ways.
Smaller units were never intended to house more than one or maybe two people.  The reality is that many condo units are housing more people than intended.  Smaller units, designed for one or two people, can now include children who have grown up to become teenagers or adults.  Like roadways filled with cars, there is a high level of congestion in communities never designed to support so many people.
Nowhere is this felt more than in communities built with too few elevators.  One less elevator meant an additional unit could be built on each floor.  Smaller homes allow for more units, and people, per floor.  When new, elevator capacity was not a problem.  Not everyone had moved in and smaller units did not house as many people as now.
Today, there can be long waits while too few elevators struggle to transport more people than intended.  This has become an infrastructure issue for which there is no solution.
There is no accurate data available on elevator failures or availability.  Availability of 93 percent in condominium buildings has been cited by some as being indicative of poor service by elevator service companies or poor staffing levels.  This fails to consider equipment age, availability of parts, the need for major repairs, elevators out of commission for months due to modernization, and elevator failures due to flooding or vandalism.  These are situations within the control of communities choosing to better plan for and maintain their infrastructure.
The Canadian Press reports that Ontario firefighters responded to 4,461 calls to assist people trapped in elevators in 2015, double what was reported in 2001.  This fails to consider that many more make "non-emergency" calls from their mobile phone rather than use the emergency phone in the cab provided for this purpose.  When firefighters are called to deal with an elevator failure that is not a health emergency, their actions are likely to cause unnecessary damage to the elevator that could have been avoided had an elevator technician been dispatched by use of the emergency phone.
Many high-rise condominium buildings are under-elevated.  Elevators supporting more people are under greater strain requiring increased maintenance and repairs.  When out of service, greater hardship is placed on all residents.
---
This article has been prepared with assistance from Phil Staite, President at Quality Allied Elevator which is one of the largest independent elevator service companies in Canada specializing in elevator maintenance and elevator modernizations.
Find Vendors in these Related Categories