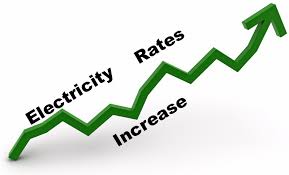 November 2019
Don't be fooled by the short-term drop in electricity prices.  This drop is likely to be short lived with more dramatic increases just around the corner.  Now is the time for diligent condo boards to prepare for these increases if they wish to avoid higher condo fees.
Electricity costs account for the largest single expense in many condo corporations.  Serious efforts to keep expenses from increasing must consider the cost of electricity.
Reducing Electricity Costs
Utility cost can represent as much as 50 percent of a condominium's common element expenditures.  Any effective strategy to reduce those costs will benefit your pocket book and the future sale value of your home.
Condo corporations have no control over the cost of utilities although costs can be lowered by reducing usage.  Two proven methods of reducing electricity costs are individual suite metering and energy retrofits.
When people don't pay directly for the energy they use, they act as if it is free and generally fail to conserve.  When individual households are billed based on personal use, numerous studies have shown dramatic decreases in consumption levels – as much as 60 percent. Overall, a building's energy consumption will experience a significant decrease from individual suite metering.  Savings tend to carry over to reduced water and gas use.  There is also a fairness benefit in that lower energy users no longer subsidize high energy users through condo fees.
Henry Jansen, P.Eng. is President of Criterium Jansen Engineers and assists condominiums with infrastructure projects including energy use reduction initiatives.  "Energy retrofits offer a way to reduce electricity and other costs.  Improved lighting systems, building automation systems, air flow, variable speed motors and minor adjustments to internal systems may all play a role.  An energy audit will review the current state of your building and identify which measures will be most effective at reducing energy and maintenance costs.  Many engineering firms can conduct an energy audit to help identify the most practical energy saving initiatives for your condo building."
Before embarking on electricity saving initiatives, it helps to understand the current state of the electricity market and where it is headed.
Why electricity prices have increased
In the early 2000s there was a shortage of electricity.  Brownouts and blackouts were common throughout the city.  The province began an upgrade of the electrical system to modernize it and add capacity.  They added transmission lines and generating plants.  Soon after there was a focus on green energy and job creation, both of which anticipated rising energy demand.  There were incentives to manufacture and install wind turbines and solar panels.  A recession later in the decade slowed demand for electricity.
Some of this investment has resulted in cleaner air.  We now experience fewer smog and bad-air days than in the past.
How expensive is electricity
Toronto pays more for electricity than any other Canadian city.  This is significantly less than major US cities including San Francisco, New York and Boston.
Peak electricity use is during the summer when we use air conditioning.  The frequency of blackouts and brownouts during peak use periods is less than it used to be.  Power outages, which result from severe weather and technical problems, cannot be entirely eliminated.
Where electricity comes from
More than 60 percent of our electricity is generated from nuclear power plants at Darlington, Bruce and Pickering.  Hydro, electricity generated from hydro-electric generating stations using fast moving water, account for about 25 percent of total electricity with natural gas and oil accounting for nine percent.  Wind turbines generate six percent of our electricity and less than one percent comes from solar or other sources.
Today's Cost Reduction
Government has reduced electricity costs by about 25 percent.  Some of this is by rebating part of the HST paid on electricity.  Some was by transferring part of the cost for electricity from bills we pay to our provincial taxes.  Finally, they refinanced the debt so that the cost is spread out over more years.
We are borrowing money to pay for all of this.  Today's cost savings will turn into higher electricity costs down the road.  Condo corporations can prepare for this by reducing overall use.
More recently, the province has sold the transmission utility to private concerns.  Funds have been used for transportation infrastructure, roads and bridges.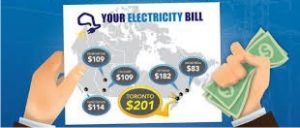 The Electricity Bill
The electricity bill includes charges for electricity we use.  There is an additional charge for delivery – Toronto benefits from being close to the major generating stations.  There is a regulatory charge, HST and global adjustment charge which covers agreements with various organizations including renewable power.