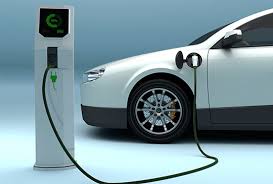 October 2018
Few condo communities have heard of the DCC box. That may be about to change thanks to the efforts of one company that appears to have successfully addressed the challenge of electric vehicle charging in condo buildings.
Electric Vehicle Charging Systems (EVCSs) are now available in office buildings, retail locations and elsewhere. The exception to this is condo and apartment buildings where EVCSs have failed to gain traction. EVCSs have been an impractical and costly solution until now.
The DCC box eliminates virtually all concerns about electric vehicle charging in condo communities. It resolves the nightmare of installing EVCSs in condo and apartment buildings.
Implementing an EVCS solution in condo and apartment buildings has thus far been unsuccessful because of four concerns:
Electric panels for each unit are generally limited to 100 amps. The building's electrical panel, which supports common areas, requires an upgrade to support electric vehicle charging. This upgrade is expensive particularly if only a few residents desire it.
Approval of the condo board is necessary because of cost and potential impact on common areas. This impact comes from large amounts of electricity needed for electric vehicle charging, particularly with numerous vehicles charging at the same time, thus reducing the amount available everywhere else in the building.
Additional enhancements are necessary to measure and charge for electricity used by an EVCS.
Any condo building solution needs to be equally available to all units. Implementing a building-wide solution that will not exceed the capacity of the building's electrical panel is a significant and expensive undertaking.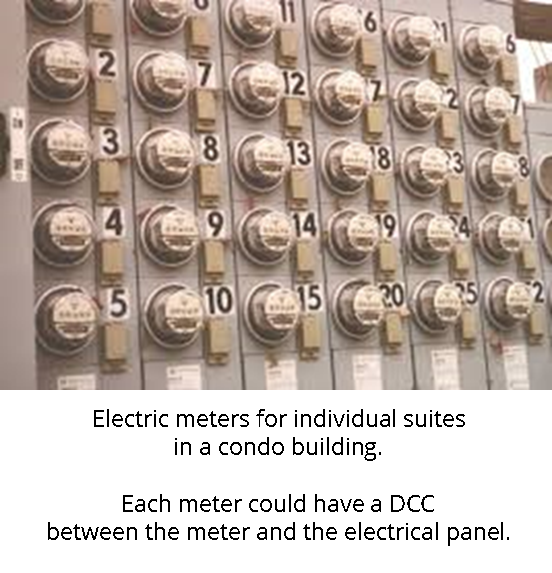 DCC stands for Demand Charge Controller. It is a small box installed between a condo unit's meter and the electrical panel. Its purpose is to divert some of the electrical power to an EVCS or plug. It monitors electricity consumption of the panel and ensures its limit is not exceeded. Once power exceeds 80 percent of the limit power is cut to the charging station.
This solution allows any condo owner to have an EVCS regardless of electrical capacity of the building. The installation does not impact common areas or other units. A small space, in the electrical room where meters are located, is required to install the DCC box which is wired to a plug or EVCS at a parking space. This solution can support any plug, EVCS or vehicle model.
The DCC box sells for about $1,100. Hundreds have been installed in Quebec. Installation cost depends on distance to the parking space and what is required at the space.
We may be years away from seeing the average parking garage filled by electric vehicles. For those wanting an electric vehicle today, DCC is the solution. Condo communities can now allow an individual unit owner to install an EVCS without incurring overhead costs and impacting on common areas or other units in the building.