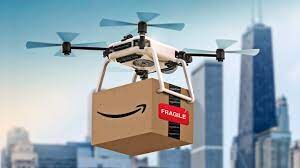 October 2022
In urbanized Toronto and its regions drone delivery of orders, if it is to become available, is well suited to high-rise communities.
Drones can carry about 4.5 kg of cargo per trip.  It may not be long before some buildings have a rooftop landing pad for drone deliveries.  A drone drops multiple packages on the roof and informs the concierge by e-mail.  The concierge retrieves packages, logs them into their package management system that informs residents of their arrival, and stores them until retrieved.
Commercial drones have been used in high-rise communities for inspecting buildings to identify problems and necessary maintenance.  Their use for delivering items is another evolutionary step.
This is no longer science fiction.  Infrastructure for making drone deliveries possible in Toronto is moving forward.  More than 100,000 deliveries have been made in the US and other countries.
Package delivery by drone may never be practical for those residing in a single-family home.  Multi-residential buildings allow more packages for more people to be delivered to a single destination.
Find Vendors in these Related Categories