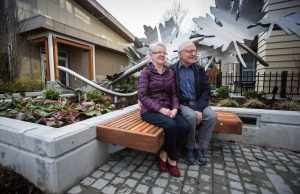 June 2019
One of the reasons for Toronto's resilient condo market is downsizing baby boomers.  Having purchased their home decades ago they have an opportunity to sell their home, move to a luxury condo building at a fraction of the price and have funds available for retirement.
Compromises are few.  Elevators and one level units offer more usable space.  Aging in place is easier and compromises because of reduced income are unnecessary.  Funds remaining from the sale of a home can be used to enjoy life, travel and financially assist children.
Recent increases in home prices are unprecedented.  Many are looking to cash out before any rebalancing of home prices takes place.
Condo living allows many to age in place and delay the need for a retirement home.  They no longer need to reside in a multi-level home while restricting their living space because of stairs and upkeep.
A growing number of adults are transitioning to condo living long before their retirement years.  The most popular condo buildings are in walkable areas with easy access to entertainment, doctors, food stores and shopping.
For those choosing not to purchase a condo but desire the lifestyle, proceeds from the sale of a home can provide an income in excess of rent comparable to living rent-free.
---
Dimension III Real Estate Services Ltd. represents buyers and sellers of condo properties.  Marty Kestenberg, Broker of Record, can be reached at luv2negotiate@gmail.com. Click here for a free market value summary for your property.
Find Vendors in these Related Categories