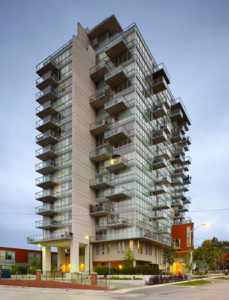 January 2014
Dia, at 30 Canterbury Place, was designated as a Boutique Condominium when it opened in 2007.
Boutique Condominium generally refers to a smaller and more luxurious condo environment, often with a sense of exclusivity and fewer tenants. With 156 units of up to 1,600 square feet and three bedrooms, of which 30% are rented, Dia is one of the smaller buildings in the Yonge North Corridor. Units include smaller studios and larger spaces for those who desire more living space. There are also a small number of townhouses adjacent to the building.
The smaller building size allows Dia to economize by employing a part time Property Manager without sacrificing service. Savings from this are allocated toward maintenance of the building and amenities.
Dia's lobby is not typical of larger condo buildings that are more prevalent in the area. It is small and sparse for good reason. Building space is more effectively used to serve the needs of its residents rather than to showcase the building.
This is a pet friendly building that actively encourages environmentalism. They are currently expanding their compost program by making disposal more convenient for residents.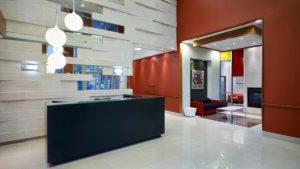 The central space is their Party Room. This is not a traditional Party Room designed for special events. It is a practical space designed for daily use. Other condos might call this a Multi-Purpose Room. It includes a fireplace with sofa and armchairs, two separate working areas with tables and chairs, a television and an updated open kitchen. This area is designed so that separate groups can share the space without conflict. The room is ideal for socialization such as card games, viewing sporting events, talking around the fire or reading.
Dia offers a Guest Suite complete with lounge area. This space is larger than what is available in many hotels and includes fridge, coffee maker and television. The outdoor courtyard, which includes a BBQ for resident use, is popular during the warmer months. Underground parking includes visitor parking and bicycle racks. Other amenities include a two level exercise area with cardio equipment, Yoga room, whirlpool and sauna.
Dia's newsletter keeps residents informed of what is happening in their building and the surrounding area.
Find Vendors in these Related Categories