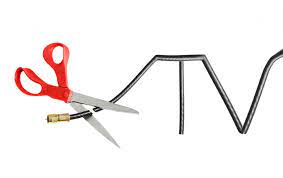 September 2023
Consumers are losing interest in cable services.
At one time streaming services were limited and more popular programming unavailable.  That is no longer the case.  All is available at your convenience for those with high-speed and reliable internet access.
One forecast suggests that less than half of Canadian households  subscribed to paid television (Pay TV) services in 2022.  Less than twenty years ago individuals would turn on the television to news or a sporting event, and leave that channel on for hours.
Cable television may soon disappear along with landline telephone service.  What were once marginal services have grown as older services fade away.  The popularity of streaming services such as Crave and Netflix have transformed our viewing preferences.  This follows the broader shift online that has affected newspapers and magazines.
Internet service providers have adapted by improving the speed and quality of their internet services.  They have made it easy for larger numbers of consumers to easily access streaming services, cable programming and anything available on the internet.
There is no disputing the appeal of streaming services.  They allow you to watch what you want when you want.  Your favourite program is no longer restricted to a one-hour time slot one day each week.
It is now much easier to cut the cable chord and rely on streaming services for all your viewing inclusive of news and sporting events.  Adding your favourite "channels" is easy.
With so many now moving away from cable and to streaming services, it makes sense for more communities to consider ways to discontinue cable and replace it with internet, internet TV and streaming services.
Find Vendors in these Related Categories