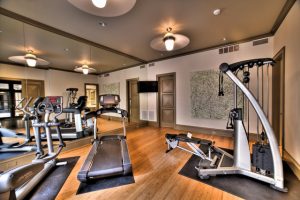 March 2020
Updated April 2020
Within communities some residents are content to spend most of their time within the confines of their suite.  Others find a suite too confining.  They lack activities to pass the time and rely on amenities such as a lounge, work/study area or exercise room which are part of their home.  For these people complete closure of amenities is comparable to a restriction on their reasonable activities.
Common areas are an extension of personal living space.  It is amenities that make these smaller spaces livable for some.  Without direction from government or a health department it may be counterproductive to close amenities where mandated safety standards can be maintained.  As of writing, mandated safety standards include two meters distance separation which can be maintained in exercise rooms, lounges and work/study areas.
The Provincial Government issued an Emergency Order on March 17 ordering the closure of facilities providing recreational programs including those on private property.  This order is in place until at least May 6.  Common areas are viewed by some as non-essential services which, if not closed, can be subject to provincial fines of up to $500K for directors and up to $10M for corporations.
A complete prohibition on pets, smoking and short-term rentals all require majority (or greater) owner support.  Closure of all amenities, in the absence of owner vote or government mandate, as protection against coronavirus, may be beyond authority of a condo board.
Measures communities can take to minimize risk of infection can be found under Deterring Infection under Pandemic Management in the Condo Archives.
Find Vendors in these Related Categories