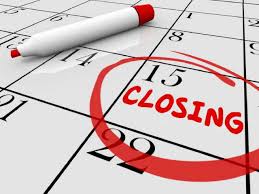 April 2021
At the time of sale both buyer and seller have agreed on a firm price.  When the market price declines or rises, some buyers or sellers may regret their decision and attempt to renegotiate or get out of their contract.
Problems arise when a buyer or seller reconsiders their purchase.  A buyer may feel the price they agreed on is too high, they are unable to get as much for the property they are selling, or appraised value is lower than anticipated.  They may be  unable to afford their purchase.
Purchase and Sale Agreement
An offer to purchase a condo is a firm agreement.  Neither party can back out of a binding purchase and sale agreement.  Each is expected to fulfill the terms agreed upon.  Changing market conditions, inability to sell another home or lack of financing are not reasons to terminate or revise the agreement.
When a buyer is unable to complete an agreement they are responsible for making the seller "whole".  The buyer is thus liable to the seller for the difference between the final selling price of a home (after a new buyer has been found) and the originally agreed price.  If another buyer cannot be found the original buyer can be held responsible for the selling price at the time the agreement was breached plus related costs.
Deposit
Buyers are not entitled to a return of their deposit.  Furthermore, their liability for breaching an agreement can exceed the deposit amount.  The seller is generally entitled to the deposit even if no damages or losses are incurred.  However, a broker can only pay out the deposit on mutual direction of buyer and seller, or by court order.
Mitigating Damages
A seller is expected to mitigate their damages.  This usually means relisting the property.  Once a property has been sold damages can be calculated based on original and final selling price.
Failure to Close and Negotiating Tactics
One reason buyers fail to close after agreeing to purchase a property is difficulty in obtaining financing.  Reluctance to close may be a negotiating tactic to obtain a lower price for a property that has dropped in value.
A buyer, when fully informed of their legal liability and a seller's willingness to pursue damages through a legal action, should be more motivated to complete the transaction.
A legal letter can be sent to the buyer making them aware that the selling price is not up for renegotiation and failure to close could make them liable for any deficiency and costs.
Remind the buyer that their deposit – at least 20 percent for properties of $1 million or more – will be used to cover costs of their failure to close and damages.
When the buyer owns a property undertake a title search to determine the value of any mortgage on title. Place the buyer on notice that equity in property they own – value in excess of the mortgage – will be subject to claims for damage if they fail to close.
Allow for a longer closing period in return for an additional non-refundable deposit to pay for associated expenses.
Agree to a reduction in selling price to expedite closing on the sale. This may be preferable to relisting and having to recoup damages through legal action.
If the buyer is unwilling or unable to complete the transaction, it becomes necessary to pursue a legal action to recover the full amount agreed upon.  An experienced real estate attorney should be retained to advise and assist in all matters relating to the sale of a condo.
Find Vendors in these Related Categories