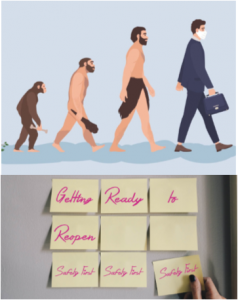 October 2020
Post-COVID building operations are likely to have a greater focus on how best to prevent virus infection.  Solutions include updated cleaning regimens, enhanced disinfection systems and improved management operations.
Small changes offer high visual impact
Signage can be used for directing residents to separate entrances and exits, and to direct traffic within a building.  Hand sanitizer stations can be installed and maintained at building entrances.
Mechanical system reconfigurations can impact more individuals
Reconfigure HVAC systems to bring more fresh air into buildings.
Revised cleaning regimens
Increase wiping down of high-touch areas from periodically to multiple times a day.  Some commercial buildings have increased cleaning of high-touch points from twice daily to every 15 to 30 minutes.
Germ guards are antimicrobial surface protection to high-touch points including elevator buttons, handrails and door handles.
Newer solutions currently in use
Ultraviolet (UV) technology can be used to continuously clean handrails.  UV sterilizing robots can travel common areas and disinfect spaces while residents sleep.  Foggers, which release a dry solution in contained spaces like an elevator, help clean the air and eliminate airborne pathogens.
Creating a touchless environment
Touchless systems are attracting greater interest.  Activated by hand waving or some other form of motion, they are available for fixtures in bathrooms and doors.  In the bathroom, toilet seat cleaners will automatically clean the seat before and after each use.  Flushing the toilet or obtaining soap can be upgraded to touchless activities.
Better control of resident and staff activities
There is no shortage of solutions for maintaining physical separation, if desired, while maintaining comparable or superior operations and allowing for access to amenities, meetings, voting and package receiving.  A condo board need only decide what level of change is desired then select the appropriate solution be it condo management software, virtual meeting technology, electronic voting software or package management system.
New technologies, more effective systems and best practices are now available such as those provided by Aware by BuildingLink.  They offer a range of post-COVID solutions monitoring for higher incidence of water leaks from more residents spending more time at home, mailbox monitoring to reduce resident traffic, broadcasting of audio messages and reminders, and button logging to ensure important staff activities are not overlooked