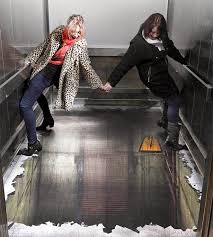 June 2017
Broken elevators are a growing problem for condo corporations.  A shortage of trained elevator technicians means that elevators are out of service for extended periods of time while waiting for what can be the simplest of repairs.
The problem is unlikely to improve and more likely to get worse.
When 18 passengers were trapped in an elevator near the top of the Skylon tower in Niagara Falls, it took two hours for them to be rescued.
The Canadian Press reports that Ontario firefighters responded to 4,461 calls to assist people trapped in elevators in 2015.  This is double what was reported in 2001.  Many more elevator entrapments were likely resolved without assistance of firefighters.
Toronto accounted for 2,862 of these calls for assistance.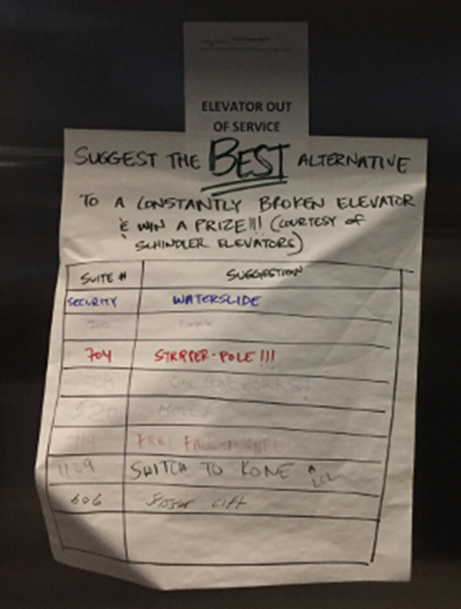 The reliability of elevator equipment is getting worse as the number of elevators in use increases and as they age.
Ontario has an estimated 18,000 residential building elevators.  About 1,550 are over 50 years old.  Another 10,000 are between 24 and 50 years old.
When elevators fail parts that must be ordered from outside the country can take weeks to arrive.  Once delivered, it can take weeks before an elevator  technician is available to make repairs.
Ontario has about five elevator fires a year; most are the result of mechanical or electrical failures.
The elevator industry is dominated by four large multinational companies.  As they compete by reducing prices to increase market share servicing has suffered.
Three decades ago an elevator technician would service about 35-45 elevators a month at a cost of about $1,000 per elevator per month.  Today that maintenance contract costs about $600 and technicians are responsible for more than double the number of elevators.  Routine or preventative maintenance is less common as emergency repairs take up more time.  This results in more elevator downtime and emergency repairs.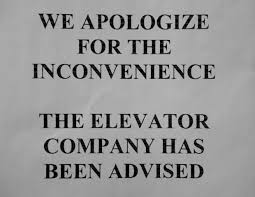 Broken elevators are more common because of this lack of preventative maintenance.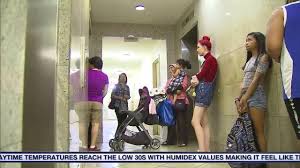 The problem is not limited to condo buildings.  Where facilities such as a retirement home have a single elevator to service a floor, a broken elevator can mean that people unable to navigate stairs are stranded on their floor for months while waiting for the elevator to be repaired.
The US Consumer Product Safety Commission reports that most elevator deaths are the result of people trying to free themselves.  More than half of all elevator-related deaths are caused by falls from an elevator cab.
After five people died and many more were injured in elevator accidents in New York City during 2015, the city launched a public awareness campaign to promote safe behaviour in elevators.  Safe behaviour includes never attempting to pry open elevator doors.
Condo management in older buildings with aging elevators have few options.  Some are being forced to update or modernize elevators sooner than expected at a cost of $200,000 or more per elevator.  Some pay a premium on their maintenance agreements to receive faster service.
Find Vendors in these Related Categories