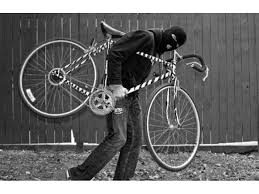 March 2019
Theft of bicycles from condos and apartments surpass those of street thefts.
Bicycles are frequently stored in underground garages along walls, in lower-level rooms or outside.  Some locations allow bicycles to be locked or caged, with or without secure access.  Toronto area condo buildings generally do not allow bicycles to be stored on balconies, and prohibited on elevators and in hallways.
City zoning bylaws require condo buildings to offer some long-term bicycle parking spaces.  Without adequate security, bicycles can easily be stolen.  Transporting bicycles to a suite may be prohibited by rules intended to protect a building from damage, and residents from injury or inconvenience.  Balconies, which are limited-use common areas, are not for storage.
With an average road bicycle costing around $1,000, they can be easily stolen and sold for profit.  Once stolen, chances for recovery are slim.  Only one percent of stolen bicycles are recovered.
Some buildings offer more space for parking bicycles than cars.  Unlike cars, bicycles don't require a key to start an ignition.  Wire or lock cutters can release most bicycles from caged or locked spaces.  Security cameras, to identify individuals breaking into these areas and stealing bicycles, may be the best deterrent.
Find Vendors in these Related Categories