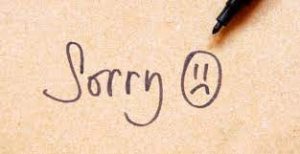 November 2021
Today everyone seems to be apologizing for something.  Admitting a mistake, even when not really your fault, has become the accepted thing to do.
Apologizing has become so entrenched many do so without thinking about it in the hope of retaining loyalty from customers, clients or constituents.  At times the effectiveness of an apology can help someone get re-elected or retain their job.  For those unable to act sincere there are websites offering instructions.
Condominium boards and management, much like private businesses and government, require an "apology plan".  There will come a time they need to apologize for failing to properly apologize.  Every week it seems that some level of government is apologizing for something done wrong even when the "wrong" dates back 50 or 100 years and was considered appropriate at the time.
At one time this was called crisis management.  Today it occurs with such regularity the phrase has become obsolete.  This is really about managing one's reputation which is of extreme importance to condominium boards.  Boards not deemed trustworthy and transparent are more likely to encounter problems even when doing the right thing.
Do apologies really matter?  They don't and are not intended to repair damage.  Apologies have become so frequent that, unless sincere, they can trivialize an issue and mean nothing.
Sincerity requires an intent, backed by action, to ensure an offense is not repeated.  There needs to be an acknowledgement of wrongdoing, acceptance of responsibility, visible remorse, public apology and effort to remedy the offense.
Viewed in this light, few apologies are sincere.
Find Vendors in these Related Categories