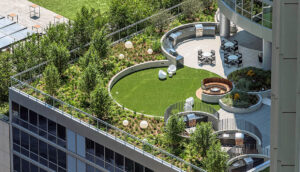 February 2022
Let's face it, a home is just a box regardless of where it is located. Any box can be renovated to suit personal interests. What really sets condo living apart from other forms of housing is amenities. When someone needs to decide which community is best for them amenities are an important consideration.

Some communities have a wealth of amenities. Others focus on a few where they excel. The battle is internal. Few communities have sufficient space to incorporate all the amenities they desire. Choices and sacrifices must be made.
So what amenities are currently popular?
Coworking spaces are currently popular for good reason. Working from home is no longer limited to the self-employed. Many businesses encourage employees to work from home. Flexible working hours have become more common. Coworking spaces are desirable to a large portion of the working population.
Outdoor activity has always been important. More communities are offering amenities connecting indoor and outdoor spaces. Locating these spaces on a ground floor lobby with windows is a great way to connect indoor and outdoor while using underutilized lobby space for amenities.
Pets are increasingly popular among young adults choosing to get married or start families later in life. Allowing pets and offering pet amenities has become a big draw.
Convenience is more important and impacts on in-suite amenities. Many young adults don't require larger kitchens and appliances of past years. With suites becoming smaller this frees up space for other uses. An outgrowth of this is food delivery services in communities catering to young adults. Conversely, downsizing families are more likely to prefer the convenience of larger kitchens.
Package acceptance continues to grow in importance while becoming a greater burden for management and concierge/security. Having a secure place to receive and pick up packages, including those containing perishable items, is important.
As some amenities grow in desirability others have faded away. These include virtual reality rooms, tanning rooms and golf simulators.
Amenities and conveniences change along with building demographics. As young adults age interests and use of amenities will change. Stable communities try not to limit amenities, conveniences and common area choices to those of interest to a single demographic.