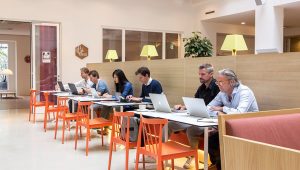 February 2021
Homes were never designed to deal with life during a pandemic.  Without access to our offices and public spaces we become isolated.  Closure of our high-rise community amenities worsen a difficult situation particularly for those in smaller suites.
We can learn from commercial facilities such as hotels, hospitals and retirement facilities about making our communities more social, and facilitating health and wellness, while maintaining a home for large numbers of individuals.
Cleanliness
The focus on clean living spaces has intensified  post-COVID as reflected in waste management, air quality, odour and other considerations.  Communities, new and old, can upgrade to air filtration units that filter out finer particles, a water purification system that removes heavy metals, and UV (ultraviolet) technology to destroy bacteria.
Residential communities can learn from hospitals by offering hand-washing sinks in common areas, antimicrobial surfaces, hands-free technology for toilets and faucets, and voice-activated technology for entertainment and other systems.
In-suite Enhancements
Balconies are being more heavily used.  There is room for improvement over concrete slabs and basic railings that are less practical.  People desire larger spaces that are more aesthetically pleasing.  Balcony flooring, lighting, accent pieces, furniture and plantings are all part of making these spaces more desirable.  Better yet, a balcony that can be closed off to become a sunroom during winter can make the space more usable year-round.
Amenities
Internally, home office space is in greater demand.  Residents in smaller units without separate space for a home office require co-working space.  Better access for mobile devices is now expected in the unit, hallways and common areas.  Dead zones are no longer acceptable or necessary.  Communities where access to mobile devices is problematic can incorporate distributed antenna systems to ensure better service on every floor.
Hallways can be more than pedestrian pathways.  In retirement homes these pathways include spaces with seating where residents can relax and socialize.  Stairways would be used more frequently if they had less concrete, more pleasing lighting and music.
Amenities take on greater importance when people are less willing to travel.  Outdoor meditation and yoga space, and pedestrian-friendly outdoor paths, are in greater demand.
From eBike rental services and short-term vehicle access to gardening and cooking groups, there are ways for each community to become more appealing by incorporating desirable amenities.
The number one lesson may be that simply hiring a condominium manager and making spaces available for certain uses is not enough.  The majority of these spaces end up underutilized.  There is a need for more imaginative use of spaces, amenity offerings and programming.