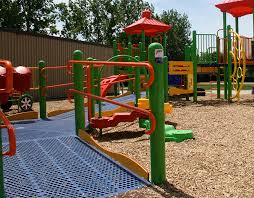 April 2020
Children and adults benefit from playgrounds.  A parent, sibling, caregiver or grandparent unable to navigate an inaccessible playground with or without a child in their care is an unnecessary limitation to the use of this space.
Children with disabilities can be further disadvantaged by poorly designed playgrounds.  They end up spending more time alone watching television and playing on the computer.  Less time is spent playing outside and with other children.
One in seven Canadians has a permanent disability.  Many others, not identified as disabled, suffer from arthritis or other impairments.
Ensuring a condo playground is accessible to all is not difficult.  It does require forethought and planning.
Walkways leading to and through a playground area, to be accessible to all, should include seating. Create a curb-free route from building to walkway and playground.  Curbs and drops between surfaces should be limited to 1.5 cm (half an inch).  Use colours and differing tactile features to identify play space, where ground level changes, and where steps start and end.  Include hand rails.
Surfaces should be accessible to all.  Surfaces inaccessible to some children and adults include gravel, sand and wood chips.  Dips and ruts can make an area inaccessible.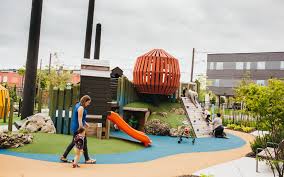 Playgrounds designed with a range of materials and activities allow children to interact with their environment.  These spaces are more appealing to children of all types and encourage group playing.  Plastic play equipment, while more economical, create static that is problematic for those with hearing impairments or ear implants.
Sensory or sound gardens, and rock climbing garden, are popular for independent play.  These areas, which can be enhanced with scented flowers and plants, are popular among children including those with disabilities such as autism and vision loss.  Elevated sandboxes increase accessibility for anyone unable to bend down or sit on the ground.
Resting areas should include benches and access to water.  Benches should include both armrest and backrest to aid standing and sitting.  Transfer benches allow both a resting place and a way for people in a wheelchair to transfer to a slide.  Slopes of less than five percent are navigable by wheelchairs.
Find Vendors in these Related Categories