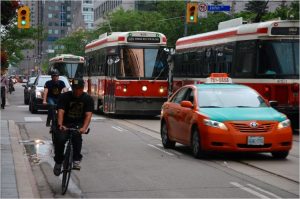 December 2015
The way people travel throughout the city is changing.
More people are choosing an urban lifestyle over a suburban or rural one. This has significant implications for major urban centres from Toronto to New York City to Los Angeles.
According to a Fall 2014 Urban Development Report by Cushman & Wakefield that looked at ten major urban centres in North America, Toronto's population increased by nearly 30% between 2000 and 2014. Atlanta was the only area with higher population growth. Major urban centres including Boston, New York, San Francisco. Los Angeles and Chicago all experienced population growth between 5% and 8% during this time. Click here to view the report – Toronto reporting begins on page 18. (Report no longer available.)
In response to this growth urban centers, including Toronto, are improving their transportation infrastructure. While Toronto has been slow to add subways, it remains extremely well served by transit inclusive of buses, light rail (LRT) and subways. There are also bike-sharing services, bike lanes and wider pedestrian friendly walkways. Companies which moved their offices out of the downtown area to where their employees were living are returning to the city.
This trend is driven by teens and young adults who no longer feel the need to own a car. It is being fed by urban centres responding to change.
Car Usage on the Decline
Los Angeles has more cars per capita than any other city. In this city, as well as other major urban centres, a change is taking place. People are no longer driving as much as in the past. In the USA, the percentage of people 20-24 years old with a driver's license has dropped to 77% from 90% thirty years ago.
In Los Angeles the percentage of people who walk, bike, or take public transportation to work rather than drive has doubled since 2001 to 22% according to the California Department of Transportation. This same survey shows that the percentage of people driving to work has dropped 12%. In New York City more than half of all households do not own a car. Similar trends are evident in other major cities throughout the USA.
These same trends are evident in Toronto where, according to the 2011 Census, almost half of the downtown core's population is between 19 and 39 years old.
In Toronto, as elsewhere, many in this age demographic now use a car as a last resort.
Urban Areas Respond
Urban areas are implementing enhanced transportation services for an increasingly vehicle-less population. In Florida there is a service allowing people to borrow a car or bicycle for a monthly fee. A private express rail service between Orlando and Miami will soon open. St. Paul and Minneapolis are being connected by a light rail line.
What these cities are not doing is creating new roads for what may be fewer cars in the future.
Auto and Technology Industries React
Car ownership is no longer seen as the necessity it once was. This has resulted in a disruption of business models resulting in changes within the automotive and technology industries where companies are preparing for a future of potentially driverless cars, vehicles more compatible with car sharing services, and even driving schools.
Uber is a service that connects drivers with those who need a ride. Zipcar and Autoshare provide vehicles for short term use. Both services are growing among those who choose not to own a car.
Google is one company unconvinced that car ownership is on the decline. They are building what they describe as a driverless, or self-driving, vehicle. If successful, such vehicles could reduce accidents resulting from poor driving habits. It could also reduce the number of vehicles on city streets. Such a vehicle could be "called" to where it is needed. Passengers in a driverless car would be able to work on their laptop, enjoy the ride or take a nap.
Google is also experimenting with various alternatives to automobiles including shared bicycles, Segways and scooters. The company operates a private bus system that shuttles employees between its office and San Francisco. In a pilot program with General Motors, Google employees have access to 50 all-electric Chevrolet Spark Electric Vehicles. Employees share these vehicles utilizing a mobile app matching drivers with available cars for morning and evening commutes.
Both Google and General Motors are learning about viable business models in an era when transportation models are changing. This is part of a growing partnership between the automobile and technology industries.
In 2013 General Motors embarked on another partnership allowing car renters to unlock GM cars with their mobile phones. This has since been discontinued.
Volkswagen is working to improve speech recognition software in their vehicles.
Mercedes-Benz has introduced Boost by Benz, a service that shuttles kids to programs such as soccer games and music lessons in a candy-colored Mercedes-Benz van. The company has a car-sharing service called car2go, and a driving school in Los Angeles.
Impact on Condos
The condo community has been slow to react. Investments in vehicle charging stations may not be practical until critical mass is achieved. Critical mass may never be achieved in light of current limitations, costs and trends.
It may no longer be practical to build high-rise condo buildings with extensive parking facilities. In the downtown core, many condo buildings do not offer parking and attract those who do not require cars. This is a significant cost saving that reduces the cost of a condo, thus reducing monthly maintenance fees or freeing up funds for other uses.
Not everyone is happy with these changes. Some desire more roadways and lanes for automobiles instead of alternate transit modes. Ultimately, however, it comes down to making the city more livable and affordable. This means making it more walkable.
Smarter cities offering efficient and accessible public transportation combined with young people preferable to sharing vehicles rather than purchasing them is having a profound effect on how these cities change, their transportation systems and condo (housing) development.
Find Vendors in these Related Categories